E-Z Trail Header Transport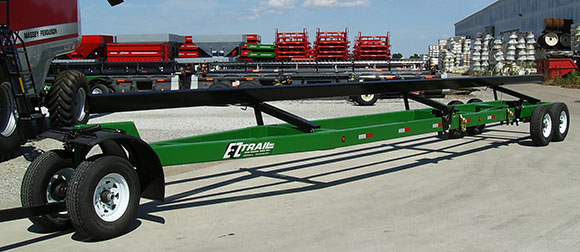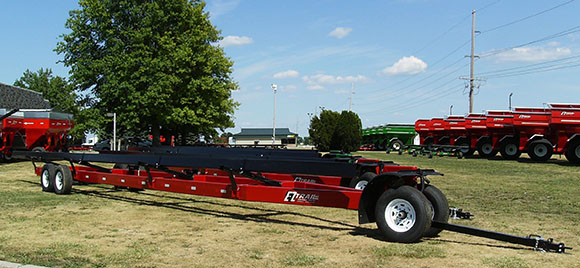 E-Z Trail Transport Trailers were built with the farmer in mind. In fact, with our farming experience, it enables is to know what the farmers are facing in the most critical time of the growing season. If you are unable to harvest the crop in a timely manner it will be lost.
From the front of the tongue to the back of the upper rest tube we use only the finest components to ensure that it is truely a wise investment for years to come.


Wrench free adjustments on all standard adjustments. The standard lower rests have 3 height adjustments and an effortless flip over insert to accommodate all known header applications. It is simply effortless to switch heads, even in the field if the need ever exists.
2" tie-downs with easy ratchet type tighteners make securing a load easy.
Heavy duty hubs and tires are standard. Large electric brakes (on rear axles) with 8 bold hubs on all spindles come standard. Tires are ST235/80R/16 load range E (10 ply rating) to ensure excellent performance for dealers or farmers making that long road trip.
Thanks to the ball.coupler hookup at the front dolly, rough terrain and sharp turns pose no problems. This also enables anyone to attach trailer directly to truck receiver hitch in such applications like putting in tight storage positions. (Always use Caution).
Light Package - Tail lamps (brake and blinker) and rear strobe kit add lots of visibility to warn motorists of your presence, but are tucked away so as not to be easily damaged.
All wiring is routed inside the for durability using high quality wire with all connections soldered to ensure long life. Automotive type 7 blade round connector to fit factory installed wiring in tow pickup.
Extendible tougue (30" extension) with clevis hitch allows for easy hookup to tow vehicle.